The Fruit Market waterfront community is a gem in the heart of Hull where residents enjoy the vibrant lifestyle offered by this unique urban village.
We spoke to first-time buyer Ryan Prescott, 28, a Medieval Researcher who is studying a PHD in archaeology at the University of Hull. He moved into his two bedroom single storey home in the Fruit Market in September 2019.
Tell us about your home and why you chose to buy in the Fruit Market.
When I was considering buying my own home, living in the Fruit Market felt like a pipe dream. But I picked up a leaflet from the Beal sales office and it progressed from there.
The area swung it – it's the perfect place for me. You're central but it doesn't feel like it. You have the marina, Humber Street and Hull city centre on your doorstep.
My home suits me perfectly.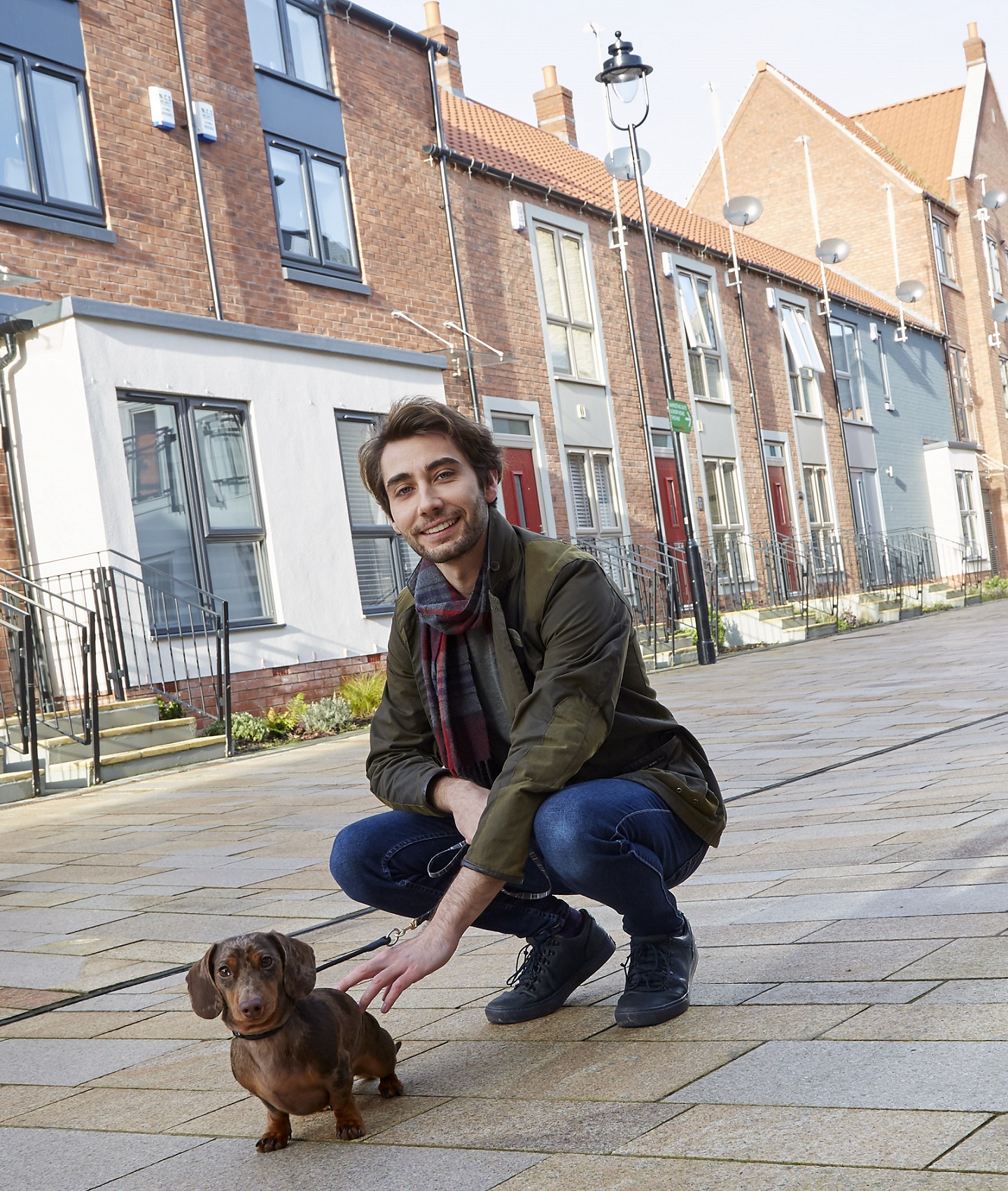 Above:

 First-time buyer Ryan Prescott moved into his two bedroom single storey home in the Fruit Market in 2019
What are the best things about being part of the Fruit Market community?
Everyone is so friendly and welcoming. If you ever need help with anything, or you want to chat to someone, it's nice that you have a friendly community around you.
It's not just about the residents. I've formed friendships with people who own the local businesses, I go to the Temple Gym in Humber Street and I love a takeaway from Bert's and I've got to know the staff there. That familiarity is really comforting.
How do you feel about the location and the lifestyle offered by the Fruit Market?
It's really good. You have everything near you and you don't have to worry about parking or getting a taxi home.
Obviously things are different right now, but in normal times it's nice to be able to have a few friends around before or after a night out in and around Humber Street.
The gym is just a two-minute walk away and the Old Town is close by. The area is constantly changing and there's so much variety.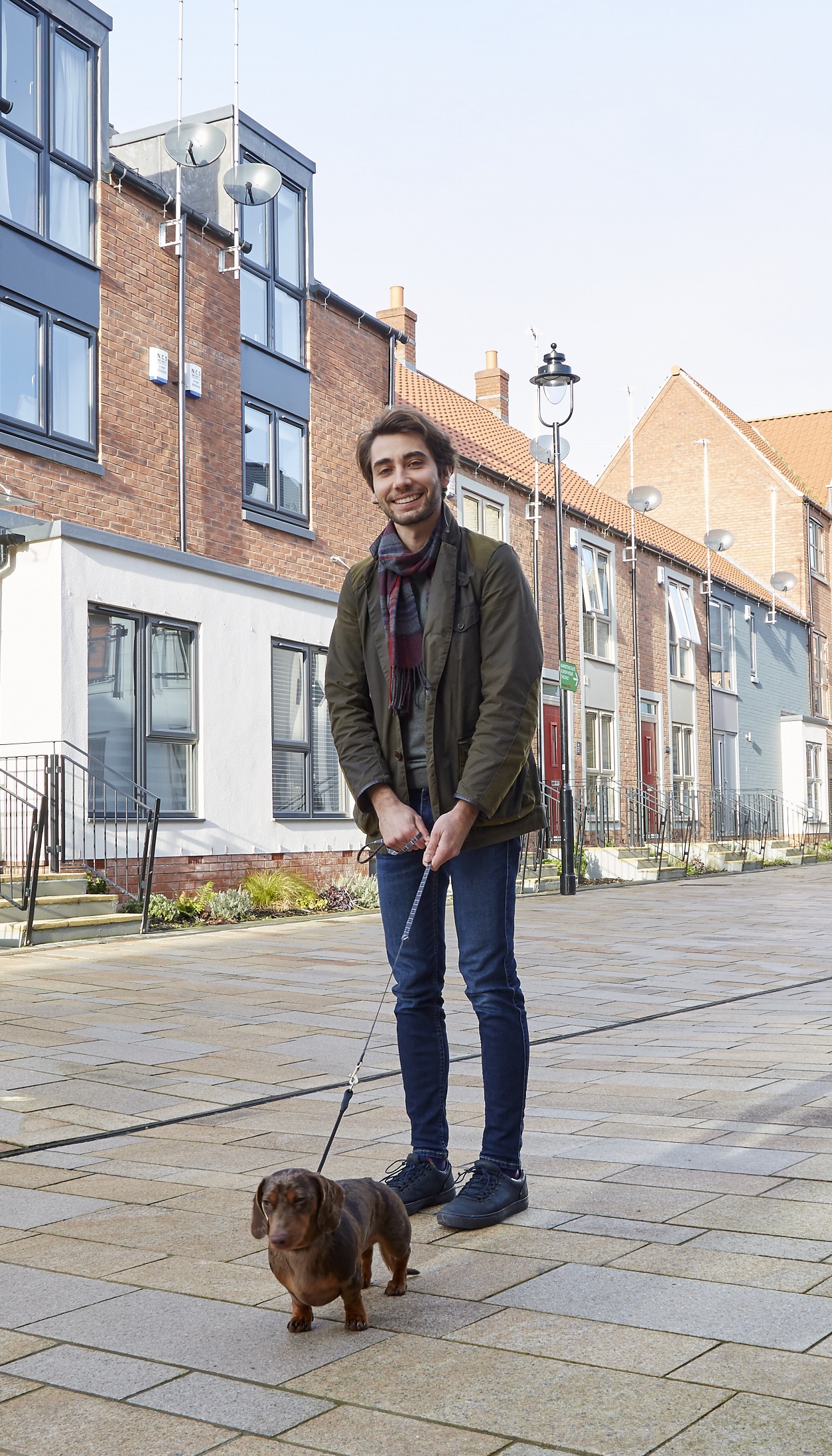 Above:

 Ryan out for a walk with his dog, Ralph, a Miniature Dachshund

Do you use the Fruit Market's shops, restaurants, cafés and bars and which are your favourite places?

Before lockdown, I used them all the time. My favourite places are the Temple Gym, Bert's, J Johnson's and Butler Whites.

Taphouse is a great place to meet up with friends and Plant & Paint is great. I have a few cacti from there.

How did you find the service from Beal?

The service was really good and everyone was so friendly. They told me about all the options available to me and the whole process was great.

I was able to see everything come to life on the selections day and the Beal team gave me really good ideas and advice.

I couldn't fault anything and I was kept in the loop all the time. It was an exciting experience and it was good to know I was in the hands of people who know what they're doing and that everything was so well taken care of.

How have the Beal team helped you to make your home a perfect fit for your lifestyle and tastes?

I wanted something that would be low maintenance and modern too. I chose moody greys and neutral colours for a contemporary feel.

The space suits me and it's great to entertain friends too.

What would you say to other househunters about buying a Beal home, particularly in the Fruit Market?

I would definitely recommend it. Just speak to a member of the Beal team and tell them what you're looking for. There isn't any "hard sell" and you will find something to suit you.