We caught up with Lindsay Carter and Kevin Boyce, who recently moved into a Haxby home on Kings Vale, with children Billy, 10, and Ivy, six.
Tell us about your Beal home and why you love it so much.
We picked our four-bedroom Haxby home for the spacious layout and we love it! We already lived in Kingswood and liked the area, but we wanted more family space.
We love the large hallway and it has a spacious living space which is separate from the kitchen. We had the choice to knock through from the garage into the kitchen to make it even bigger. It also has a large drive and a south facing garden which will be great in Summer.
What are the best things about being part of the community at Kings Vale?
We've settled in really well. There are a lot of families with children the same age as ours.
It's within walking distance to the shops, park and pub, and the area is nice to walk around. The neighbours are also lovely.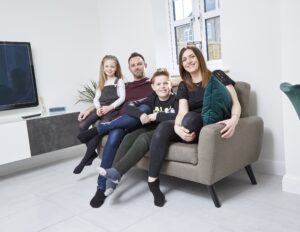 Above: Kevin Boyce and Lindsay Carter in their Haxby living room, with children Ivy and Billy.
How did you find the service from Beal?
We couldn't fault it and the Sales Representative went out of her way for us. When we wanted to knock through to the garage, Beal understood and fulfilled our wishes.
They kept us updated all the time, they were so friendly and I felt like we knew them by the end of the process.
How did Beal help you through the buying process?
We went through the Smooth Move scheme. Beal helped us to sell our house, advertised it and covered our estate agent fees. We put our house up for sale in October and it sold in January. They did everything for us and took the stress away.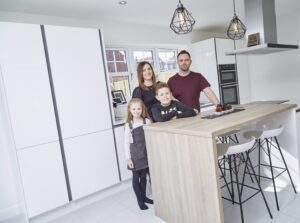 How have the Beal team helped to make your home a perfect fit for your lifestyle and tastes?
Our kitchen is completely bespoke and exactly what we wanted. We walked into the selection meeting with a 3D drawing, showed them what we wanted and they made it happen.
We have a unique breakfast bar and our kitchen is exactly what we asked for.
We work from home quite a lot, as an accountant and project reporter in the rail industry, so having the space to sit in the kitchen is perfect.
What would you say to other househunters about buying a Beal home?
Do it! We haven't been disappointed at all. Beal are a cut above the rest in terms of house quality, the finishing the touches and communication. We can't fault anything – it's the complete package.
Pictures R&R Studio.