Earthy
The popularity of the cosy Scandinavian tradition known as 'hygge' is definitely an influence on this comfort-focused look. It's all about creating a charming, welcoming atmosphere with rustic, natural finishes and the warm light of flickering candles. If you love crafting, this is a great option as handmade decorations are a key part of getting this design just right. Even simple touches like bows of beautiful ribbon tied to your tree or on your stair bannister will add those extra details that really count. But if you love things looking perfectly matched, this is one to stay away from as clashing colours and a mixture of textures are essential. If, however, you like to get the most out of your Christmas decorations, this is a good choice as items such as gorgeous wool throws and cute collections of pinecones will look just as good once the festivities are over.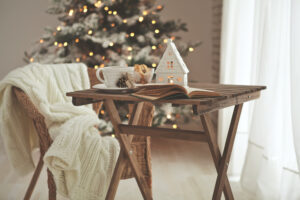 Glam
Yes, that's right, getting dressed-up isn't just for Christmas party goers, your home can be adorned with a beautiful gloss of glamour that will ensure the best celebrations are all at your place. At first glance, this look uses the fairly traditional shades of silver and gold but the key thing here is to throw a third tone into the mix to keep things modern. We suggest a pretty pink colour for a stunning yet polished overall effect. This isn't a look for the timid as flamboyant patterns, finishes and objects are the order of the day. Think framed bold prints, feathers and fur trimmed stockings. As long as you stick to a defined colour palette, nothing is too much for the seasonally glam home so don't be afraid to add plush material such as cable knit blankets, velvet cushions and silk ornaments.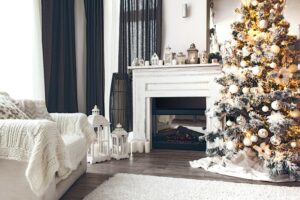 White
If you're hoping for snow to fall on Christmas Day, why not guarantee yourself a white Christmas with this clean, neutral trend? But don't be deceived, while this might look simple, it actually takes a lot of effort to achieve. Less is more here so you'll have to be disciplined and work with restraint, using a small number of carefully chosen pieces rather than boxes of baubles and tinsel. You'll also need to invest in high-end individual items like glass-blown decorations or detailed ceramics. If you enjoy collecting keepsakes, this could be the best option for you as you can build-up your Christmas collection year by year. One or two vintage items can also work or why not ask friends or family to pass-on something that suits the snowy quality of this effect? That way you'll have something with both luxury appeal and real personal meaning to enjoy.