1. Wine Chiller
It's the ultimate accessory for those who love to host friends and family. Whether you've spent weeks planning a party or are preparing for a last-minute impromptu gathering, a wine chiller in the kitchen will ensure you always have a perfectly chilled bottle ready to crack open for you and your guests.
2. Think Pink
At our state-of-the-art showroom, you'll have all the time you need to browse your customisation options so why not take the opportunity to be bold? We'll help you imagine how everything will look and feel so you can be confident with your choices. So, if you've always dreamt of bright pink for your cupboards, your new Beal home could be your chance to bring your vision to life.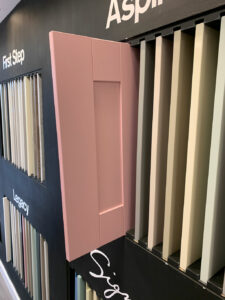 3. Mode Bath
At this busy time of the year, what could be more relaxing than a deep, luxurious bath? And with a Mode model, you can start to unwind before you even get in the tub. With a simple touch of a button, this smart bath will fill-up exactly to your preferred temperature while you get ready to melt the stresses of the season away with a well-deserved soak.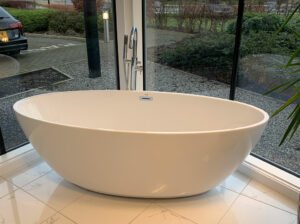 4. Wireless Speaker System
It just wouldn't be December without carols and a few classic Christmas tunes and a wireless speaker system means you can enjoy listening to your favourites songs with ease. Forget turning up the volume so you can hear your favourite sounds blasting from one room to another, choose a wireless system so you're in control for a crystal-clear listening experience.
5. Illuminated Vanity Mirror
When getting ready to enjoy the holidays, an illuminated mirror is the perfect companion. You'll really see the difference when applying make-up, shaving or styling your hair thanks to its clean, well-lit reflection. This upgrade is both functional and decorative as the light also creates a soft, warm glow that is handy for leaving on to help overnight guests find their way to the bathroom in the dark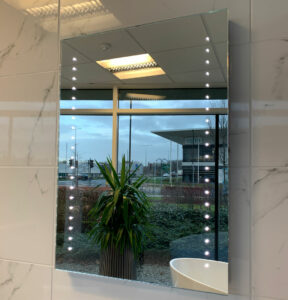 6. Porcelanosa Mosaic Tile in Dover Antique
Who says that new homes don't have character? With so many bespoke options, you can create a cosy, welcoming atmosphere with finishes that are full of interest. One easy way to add style is with an unusual choice of tiles. This is a good choice if you're nervous about adding detail elsewhere as you can go for something quite busy without going over the top. The Dover Antique pattern by Porcelanosa, for example, is the perfect blend of contemporary and traditional to suit the modern home.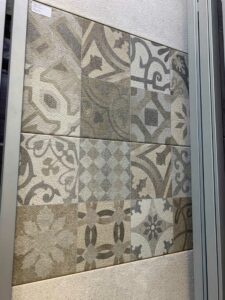 7. Lusso White Marble Top
For a kitchen you'll be proud to cook Christmas dinner in, look no further than a fabulous Lusso White Marble Top. This stunning material is a gorgeous addition whether you favour a country kitchen or an ultra-modern look. It's a classic that goes with anything and looks just as great when you're pouring champagne for a special occasion or tucking into a takeaway after all the festive food.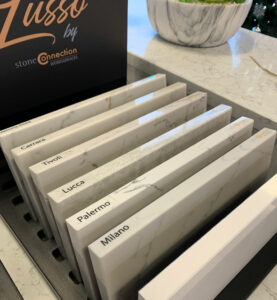 8. Hot/Cold Tap
After a brisk winter walk, imagine how lovely it would be to get back home and enjoy a warming cup of tea of coffee with boiling water on demand. A hot/cold tap in the kitchen can do just that while also making cooking easier. No need to wait for the pan or kettle to boil your Christmas vegetables, just turn on the tap and you're ready to go. This valuable gadget also means your guests can enjoy a glass of filtered, chilled water at the dining table too.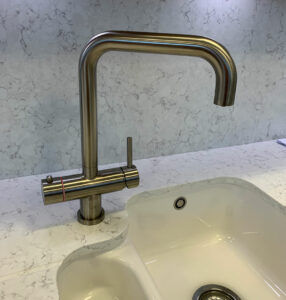 9. Neff Slide and Hide Oven
Fans of the Great British Bake Off will have seen this genius invention in action – an oven door which slides away for an easier cooking experience. This is especially useful when taking large items like a turkey in and out of the oven and you can get close for basting without having to lean across a hot door. A true game changer, once you've experienced life with a slide and hide, you'll wonder how you ever managed before.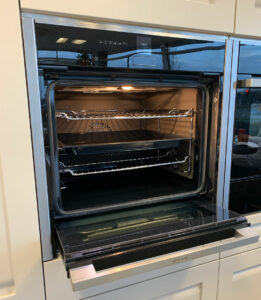 10. Ambient lighting
Often overlooked, good lighting is actually a key factor in creating the right look and feel in your home, especially on those dark nights and dull mornings. With our architects and designers on hand, you can pick lighting that suits how you're going to live in your new home when you visit our selection studio. Perfect for nights in with friends and family.