We caught up with Sarah and Nathan, who we supported to move into their first home.
Tell us about your Beal home and why you love it so much.
The location is great for work and a lot of our colleagues live here, so we have a nice NHS social "bubble".
We chose our four bedroom Langdale home and bought off plan because of the many changes we could make to it.
We wanted to put our stamp on the house as we see this as our forever home. It's our own space to make memories and our future together.
How did you find the service from Beal?
We were worried we wouldn't be able to move because of the lockdown and concerned about the arrangements for moving our furniture in, but we got everything sorted with our solicitor and it all went ahead, with Beal's support.
We both lived with our parents previously, so we weren't in a chain, which made it easier, especially in the current circumstances.
We hired a self-drive van to move everything in. It was hard work on our own, but worth it.
The Beal team have been lovely and kept us informed throughout. The selections process was brilliant and the mortgage advisor they recommended was really nice and so helpful.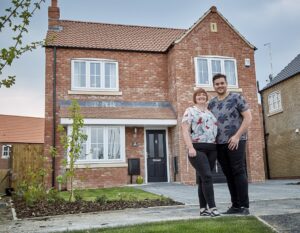 Above: Paramedics Sarah Hara and Nathan Otley moved into their four bedroom home at Kings Vale, more than three weeks after the UK was placed under lockdown.
How did Beal help you through the buying process?
We used the Help to Buy scheme and the mortgage advisor guided us through that process.
We also got Beal's discount for NHS workers, which meant we could use this towards extras and structural changes. This enabled us to expand the kitchen/diner, convert the garage into the utility room and downstairs toilet, upgrade to a waterfall shower, have laminate floor downstairs, put loft ladders in and have sensor lights installed.
We were really happy with the speed of the house buying process and Beal gave us good advice, which was all very clear.
How have the Beal team helped you to make your home a perfect fit for your lifestyle and tastes?
We knew what we wanted, we had ideas and plans and Beal understood our vision for our home.
The kitchen and dining area is completely bespoke to us and great for entertaining. It covers the full width of the house and it's open plan with windows all around, so it lets a lot of light in, especially as we have a sunny, south-facing garden.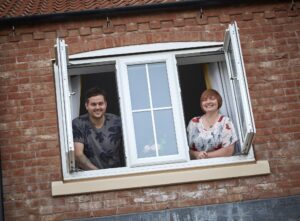 Above: The couple benefited from the government's Help to Buy equity loan scheme and Beal's discount scheme for NHS workers.
What would you say to other househunters about buying a Beal home?
We've already recommended Beal to others and a couple we know are buying a Beal home in Beverley following our recommendation.
Beal make the process really easy and there's so much choice. It's so nice that you can make your property your own.
Everyone is facing challenges in the current climate and fair play to Beal for doing their best to help people through the moving process.
The whole experience of buying our first home has not been as stressful as it could have been, even with the lockdown. We're so pleased we've been able to move in.