The secondary school teacher and audit manager feared they wouldn't be able to move after their initial buyer pulled out shortly before the country went into lockdown, but they are now settling into their home with daughter Tia, 23, and son Daniel, 16.
Tell us about your Beal home and why you love it so much.
We looked at so many new-build properties in the Kingswood area but we came back to this one because the finish, layout and quality was the best we'd seen.
We have four bedrooms and a converted garage, which has given us each our own separate workspaces at home.
We have a bigger kitchen and the bedrooms have given the kids more room too, which they're over the moon about!
We enjoy cooking and we love our large, south-facing kitchen, which has big windows and French doors, so it's light and airy.
What are the best things about being part of the community at Kings Vale?
We love Kingswood and our neighbours are so friendly. There's plenty of space to walk our dogs and we're close to open, grassy areas.
Three of us are keen runners and there are lots of places to do that. The area is also really convenient for shops and entertainment.
It's ideal for families, which is what we wanted.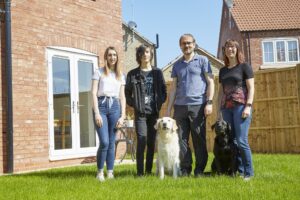 Above: Terasa and Martin Scutt are settling into their new home at Kings Vale with daughter Tia, 23, and son Daniel, 16
How did you find the service from Beal?
It was absolutely brilliant and we can't fault it. We had weekly updates and we always knew where we were in the buying and selling process.
Everyone at Beal is really friendly and beyond helpful. When we had a problem with our original buyer, they made so many phone calls and went above and beyond to help us. We felt completely supported all the way through.
How did Beal help you through the buying process?
When our original buyer dropped out we were devastated, but Beal got our house straight back on the market and it was sold by the following afternoon.
We then thought everything would be put on hold indefinitely because of lockdown and we didn't know what position our new buyers were in. Luckily, they wanted to complete as soon as possible, which was a relief.
Everything went smoothly and Beal were brilliant at keeping us updated. The level of customer service didn't change because we were in lockdown.
We went through Beal's Smooth Move scheme. They managed viewings and put us in touch with an independent mortgage advisor. They even got quotes for our home insurance!
We work long hours and all of this took the stress out of it for us.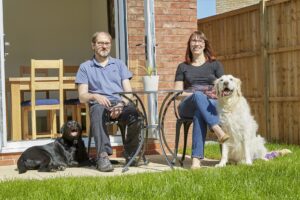 How have the Beal team helped you to make your home a perfect fit for your lifestyle and tastes?
We were happy with the layout, but we changed the colour of carpets to suit our taste.
The selections process was lovely and we really enjoyed it. They showed us how everything matched and they photocopied everything we needed, so we were able to go away and measure to our heart's content.
What would you say to other househunters about buying a Beal home?
Definitely do it!
The personal touch is what makes Beal different. They're there for you, they keep in touch, they really care and they're interested in you. You're not just another customer.
We're so pleased to be in and we love our new home.
Pictures by R&R Studio.