Amy, a Life Science Specialist, and Mitchell, an Operations Manager at British Steel, moved into their four bedroom Thornton property as the Government began to ease the coronavirus lockdown rules.
Tell us about your Beal home and why you love it so much.
We moved to Kingswood about three and a half years ago and looked around Beal's Thornton show home, but it was outside of our budget at the time and we bought a three bedroom house, which wasn't a Beal Home.
When we came to choose our new home at Kings Vale, we felt it was meant to be as there was one Thornton home left. We realised it was the same house type we looked around a few years ago and everything was as we would have chosen.
We love how light it is and the space we have and we spend most of our time in our open plan kitchen. We really like Kingswood too.
What are the best things about being part of the community at Kings Vale?
On the day we moved in, our lovely neighbours introduced themselves and one gave us a couple of beers.
They always say hello and ask how we are, and they have given us their numbers in case we need any help. We felt welcome straight away.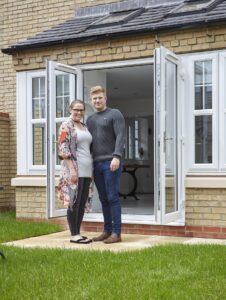 Above: Amy Dawson and Mitchell Clarke in the garden of their Thornton home at our popular Kings Vale development in Kingswood Parks.
How did you find the service from Beal?
We were really happy with the service. They rang us once a week to update us and everyone was really helpful. The communication was great, even during lockdown, and they kept us informed at every stage.
Since we moved in they have been round to tweak some minor snags for us. Whenever we need them, they're there and they're always very courteous.
How did Beal help you through the buying process?
We used Beal's Smooth Move scheme and they paid our estate agent fees, as well as giving us an extra £6,000 towards our deposit.
Beal recommended an independent mortgage advisor, who gave us some good options and talked us through everything.
Although our existing property was up for sale with another estate agent, Beal advertised it on the pre-loved homes section of their website and shared it on social media, which we were pleased about. It sold within five weeks and the support from Beal helped with that.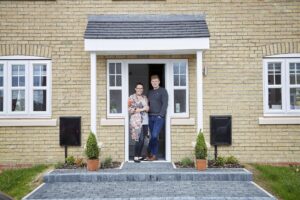 How have the Beal team helped you to make your home a perfect fit for your lifestyle and tastes?
All of the features and fittings were already in place, as someone else was due to buy the house before us, but we really liked the choices and we would have chosen the bathroom tiles, carpets and flooring which were already in.
It has fitted wardrobes in the bedroom, spotlights in the kitchen and blinds at every window.
It's very neutral and we're looking forward to adding colour to the walls in the future.
What would you say to other househunters about buying a Beal home?
Beal help you every step of the way and they don't hassle or rush you. We'd recommend getting Beal involved from an early stage because they can also help you with getting a mortgage and selling your existing property.
They had our best interests at heart. They have a great reputation and they're a local company, which has its benefits because they know the area very well.
Everything was so simple and straightforward.