Now more than ever, it's vital to have the space you need to make your home work for you.
The Covid-19 pandemic has led us all to re-evaluate what we need and want from our home, whether it's a dedicated room to work from home, or more space to entertain family and friends inside and outdoors.
Whatever you need from your home, we've got a fantastic range of properties for all types of buyer and every budget and we work with every customer to ensure their new home fits their needs and tastes perfectly.
Our homes offer spacious accommodation expertly designed for today's contemporary lifestyles.
On top of that, we offer every buyer the unique opportunity to customise their home, from moving walls to change the internal layout, to picking from an amazing range of fixtures, fittings and finishes.
That flexibility has always been popular with our customers and a major reason why househunters choose to buy Beal. But, now, having a custom-designed, spacious home, ideal for you and your family's needs, is even more important.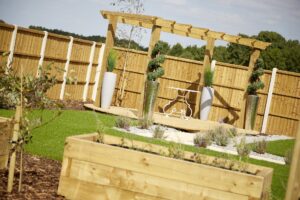 Above: Buyers can now create their own expertly-designed outdoor space with Beal's newly-appointed Interior and Landscape Designer
New research shows demand for larger homes and outdoor space and gardens has increased dramatically since lockdown.
The UK's number one property website, Rightmove, has revealed that a recent survey of more than 4,000 home movers showed the most sought-after features included a garden and a larger, pet-friendly home with parking or a garage, as well as a desire to live closer to parks and green spaces.
Beal offers this and much, much more, by enabling buyers to create living spaces that match their needs and lifestyle exactly, and has now added a new dimension to its acclaimed customer selections service, focused on helping customers fulfil the potential of their outdoor space.
Rightmove data analysts found that searches made by buyers for homes with gardens were up by 42% in May 2020 compared to May 2019.
The property website also said its research showed 28% of people who were not planning to move before lockdown are now entering the market, while enquiries in July were 75% higher than 12 months ago.
Above: Having a custom-designed, spacious home, ideal for you and your family, is now more important than ever
It's easy to see why our prestigious developments in sought-after locations and spacious homes with generous outdoor space are now in more demand than ever before.
Sales and Marketing Director Sue Waudby said: "We've always prided ourselves on providing a great range of homes, to fit all budgets, all of them with the highest standards of design and build quality.
"Every Beal buyer also has the opportunity to make their home perfect for their tastes and lifestyle. That combination is more relevant now than ever. If you're looking to move, we'll have the home you're looking for – get in touch!"
What are you waiting for? Call our sales hotline 07376 884128 today!