We caught up with Emma Midwood, our Selections Design Manager, in our unique Design Lounge as she explains what the process involves and how her team helps create so much happiness for buyers.
Tell us about the Beal selections process.
Once a buyer has reserved a plot, they're invited to our head office for a day-long appointment in our Design Lounge to establish the colour schemes, kitchen design and requests for any structural alterations, such as a garage conversion.
We look at everything from colours for the kitchen and tiles, to flooring and kitchen doors, and many customers have ideas following their own research. We go through everything in their new home, room by room, socket by socket, switch by switch.
While our Selections Studio Manager, Steve Arnold, is downstairs making notes on the buyers' wishes, I'm upstairs working on the technical drawings in response to their design requests.
Everything is finalised on the same day and our customers leave with a full pack of 3D colour visuals, revised plans and photos of their interior design choices.
Why do you offer this unique opportunity to buyers?
Our Chief Executive Richard Beal established this service because we want to help buyers' dreams, ideas and visions come true.
We make sure nothing is lost in translation and every last detail of what the buyer wants is communicated to site.
When you're offering a service as bespoke as this, it can be challenging, but it sets us apart.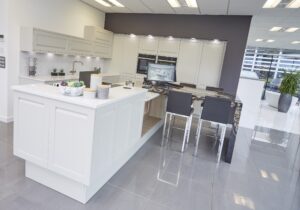 Above: Our experienced team of architects and designers are on hand to guide buyers through every step of the design, build and customisation process.
How do you ensure Beal's homes fit their buyers' lifestyles and tastes?
Everyone has their own vision of how they want their home to look and they've usually done a bit of research before the selections day.
We talk to the customers about their lifestyle, so we can understand what they need and want from their home and where they'll spend the most time.
Ideas flow from there and we help the buyers by making suggestions for what we think would work best for them. We know what designs will work in specific house types and we can offer advice for every room.
Every home is bespoke to the buyer and is tailored to meet their exact requirements.
How much choice are buyers offered?
Our Design Lounge enables buyers to see, touch and feel our choice of worktops, tiles, taps, wardrobes, carpets and much, much more.
The choice is huge and we can do as much or as little to the home as the buyer wants, including adding vanity units in the bathroom, choosing tiles, walls, carpets and laminate floors, adding designer radiators, creating sun rooms or garage conversions, adding or moving electrical points. Including a new service helping buyers to make the most of their outdoor space.
We pride ourselves on doing everything possible to fulfil customers' wishes.
Above: Our Selections Design Manager, Emma Midwood, with Selections Studio Manager, Steve Arnold in our unique Design Lounge.
How do customers respond to the selections process?
They leave feeling excited and eager to see what the end product is going to be like after spending the whole day with us.
We offer them refreshments during the day, so we really look after them and it adds to the overall experience.
It's a full day out, as it takes time to go through everything in such detail. We want to ensure everything is perfect and exactly how they want it before they leave.
How do you feel about being able to create the perfect home for buyers?
It's a great feeling. The kitchen is usually the room which gets the best reaction and a few customers have had happy tears in their eyes.
You see how much it means to them and it's a lovely feeling to help someone create the home of their dreams. It makes me feel very proud of Beal as a business. It's a great company to work for and everyone wants the absolute best for the customer.
Above: As part of our bespoke design service, you can choose from an extensive range of contemporary fixtures, fittings, extras and upgrades on display in our Design Lounge.