How we're able to celebrate this ghoulish time is very different right now, but we can still give our Beal homes that Halloween vibe, inside and out!
This year, trends show that décor ideas are stylish as well as spooky. Here are our top tips to make your Halloween home a classy one.
Get picky with your pumpkins! Real ones come in beautiful Autumnal colours and all different sizes to make a stylish arrangement. Not only is it a great excuse to go on a socially-distanced family outing to a local pumpkin patch, you can make a tasty soup afterwards!
Keep things classy with co-ordinated colours. Not everything has to be orange and black at Halloween. Select contrasting accessories for a look that can be used all year round.
Choose autumn foliage and candlesticks to make a stunning centerpiece for your dining table. Add some on-trend dark dining accessories and you've got yourself a haunting design.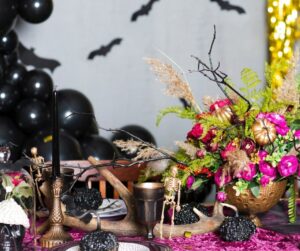 Create your own scary wooden signs. Use chalkboard paint and white chalk to write your own terrifying warnings. Once Halloween season is over, you can write your shopping list on them.
Make some Halloween-themed recipes. Spaghetti or noodles can easily look like a plate of wriggling, writhing worms! And anyone for meatball eyeballs?
If in doubt, spray it! Matt black spray paint is an affordable way to spook-up your accessories. Spray empty wine bottles or jars to make chilling candle holders. Also spray some dried branches or leaves for a rustic magic forest theme.
And finally, no seasonal celebration should be without a selection of themed cocktails! Scary Bloody Mary or Witch's Brew anyone?
Remember to tag #bealhomes with your spookily chic décor pics!