The couple feared their move would be put on hold as it was due to happen during the coronavirus lockdown. But, despite the challenging situation, we helped them move into their new three bedroom Pickering home.
Tell us about your Beal home and why you love it so much.
We have a three bedroom semi-detached Pickering home with a huge lounge and we knew it was what we wanted as soon as we saw it.
We really wanted a breakfast bar in the kitchen and Beal managed to add a lovely peninsula during the selections process. We've also got a big garden.
Kingswood has its own community and the location is perfect for work and both of our families.
What are the best things about being part of the community at Kings Vale?
Our neighbours are lovely and really welcoming, so we quickly felt part of the community.
We have a supermarket, shops, a café and restaurants within walking distance, but we are far enough away from it all so it's not too busy.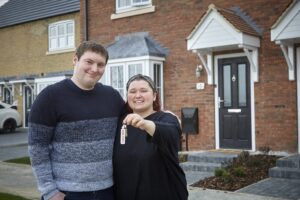 Above: Teachers Chris Jaques and Rebecca Barber moved into their first home despite the challenges caused by the Covid-19 emergency.
How did you find the service from Beal?
We'd accepted our move might not happen because of the lockdown period and we were surprised when Beal said it could go ahead.
They've done so well under the current circumstances. They continued to give us weekly updates, which was so reassuring for us.
They stuck to social distancing rules, made everything really clear and gave us space to do our inspection four days before we moved in. They didn't rush us and waited outside.
How did Beal help you through the buying process?
We used Beal's Launch Pad initiative for first-time buyers, which meant we had £5,000 for extras to personalise our home.
They put us in touch with an independent mortgage advisor and a solicitor, and we didn't have to look for anything.
They had our best interests at heart all the way through and it was so easy.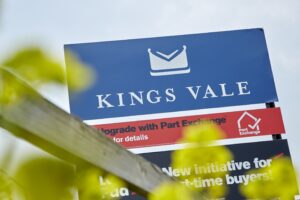 How have the Beal team helped you to make your home a perfect fit for your lifestyle and tastes?
They've been accommodating all the way through and the selections process was amazing, with great attention to detail and choice.
Beal gave us lots of advice, even the best place for our piano! Our choices reflect us as a couple and it feels like our home already.
The kitchen is completely bespoke to us and we feel so settled here already. It's really cosy.
What would you say to other househunters about buying a Beal home?
If you're looking to buy a home hassle-free, then Beal is the right choice.
You get so much included with your home and you can move straight in without any worries.
Beal is a big enough company to have several developments, but small enough to ensure everything is personalised and individual to you.
The team are really approachable and friendly and they are always there for you.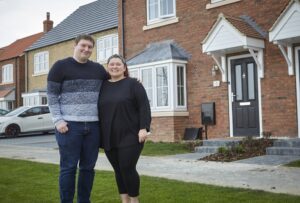 Above: Chris and Rebecca used our Launch Pad scheme for first-time buyers.
See how we can help you move here.
#HelpingYouMakeYourMove